On the Can Planells hotel website we have a section, 'Interesting Places', which is a small guide where we highlight the most authentic, entertaining and tasty spots in Ibiza. Our favorite places, beaches, restaurants, shops… Here's a mini guide of the 12 most shared and liked places by visitors.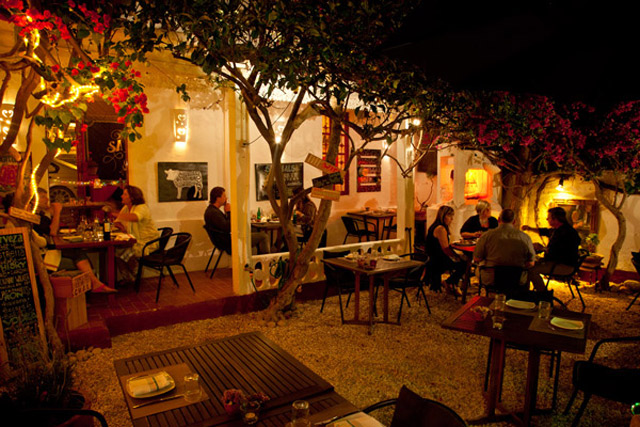 Located in the heart of Santa Eulalia, it has a beautiful garden where you can taste its elaborated and varied cuisine. Ideal for grilled meat lovers, one of their specialties is 'dry aged T-bone steak', served on hot stone. Simply scrumptiou.
In the Paseo de Vara de Rey in Ibiza town you'll find this wonderful restaurant where you can try sophisticated miniature dishes and elaborated tapas, with very special designs. The ham croquettes, ceviche, eggs and mini burgers are a must-try. A delicious experience for your palate.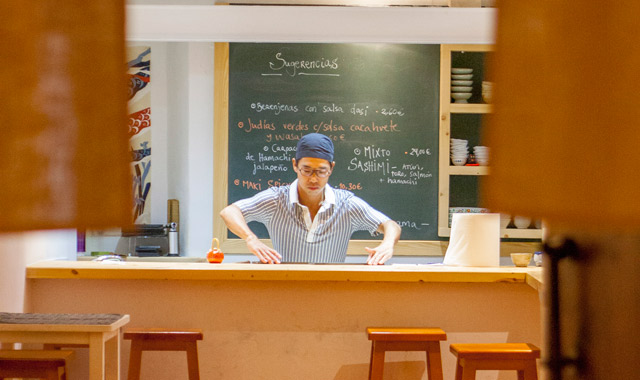 In the historic center of the city of Dalt Vila, in a small plaza in sa Penya, near Calle de La Virgen, you'll find this fabulous Japanese restaurant and sushi bar, run by chef Hideki Aoyama. Fantastic sushi made with the freshest ingredients. A true experience for your palate and an excellent service. Daily suggestions are a must-try, always delicious.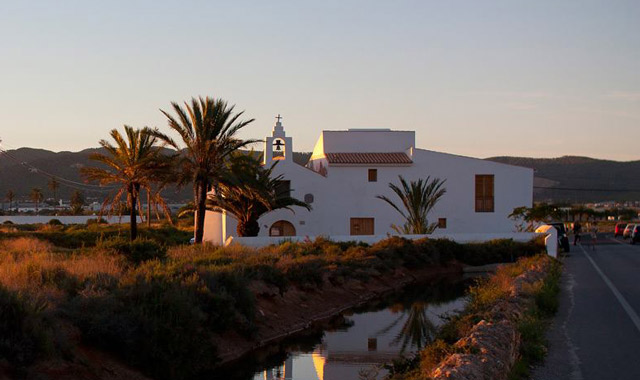 Established in a traditional Ibizan house across the salt pans of the Natural Park of Ses Salines, this bar offers delicious baguette sandwiches and crepes, salads and other casual dishes. Ideal to stop before or after going to the beach. Watching the sunset with the church of Sant Francesc in the background is a must.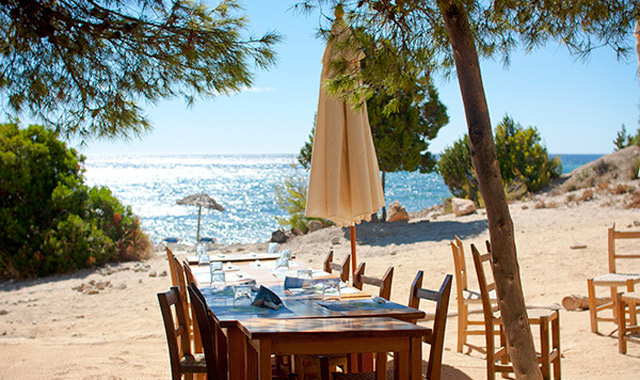 If you want to try delicious fresh fish and excellent rice dishes in a secluded and calm place the best is to opt for this beach bar, situated at the foot of the cliffs of Es Cubells. You'll dine on a table under the pine trees in a very relaxed oceanfront atmosphere in a quiet and uncrowded beach cove, even in August.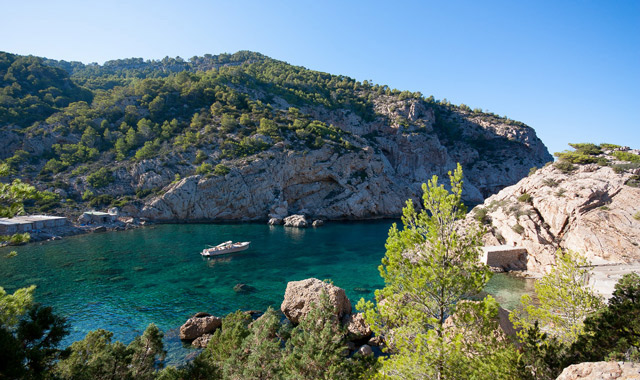 It's a nice little fishing cove with transparent waters located in Sant Miquel. It's usually uncrowded. To reach it you have to hike for 30 minutes along a very nice trail that runs parallel to the beautiful coastline of the area. It is entered through 'Isla Blanca' residential area.
Located in the Port de Sant Miquel. To reach it you have to take a little path next to the main beach. It's a pretty little beach cove, always calm, and which also has a beach bar, Utopia, where on Fridays and Saturdays they make delicious 'sardinadas' (sardine barbecue).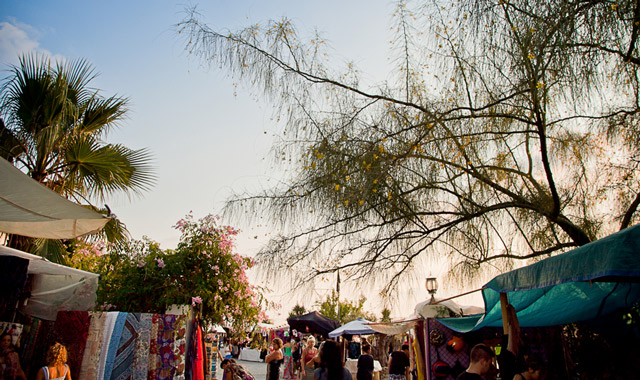 One of the most famous hippy markets in Ibiza. With many stands, you can find everything you're looking for. Crafts, handmade accessories, clothing made with fabrics from all around the world, jewelry and much more. All this in a cosmopolitan and typically Ibizan atmosphere, in a really nice garden. Located in Las Dalias bar, on the road to Sant Carles.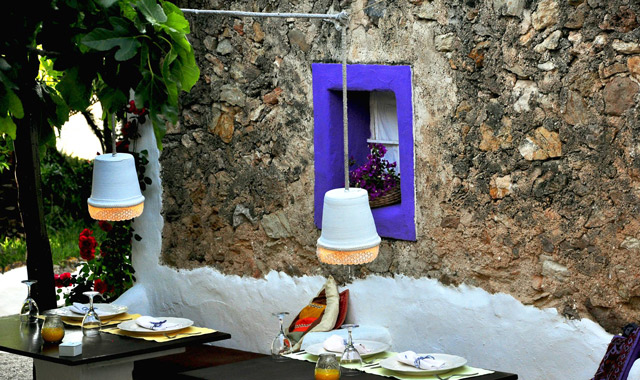 9. La Luna Nell'Orto Restaurant
Cozy and romantic restaurant located in the center of Sant Miquel. Typical dishes from the Alpine country cooked with locally grown products and accompanied by an extensive menu of Spanish and Italian wines. Established in a typical Ibizan house refurbished with a Provençal style. Fabulous homemade pasta and grilled gourmet meat dishes to be enjoyed in their garden terrace.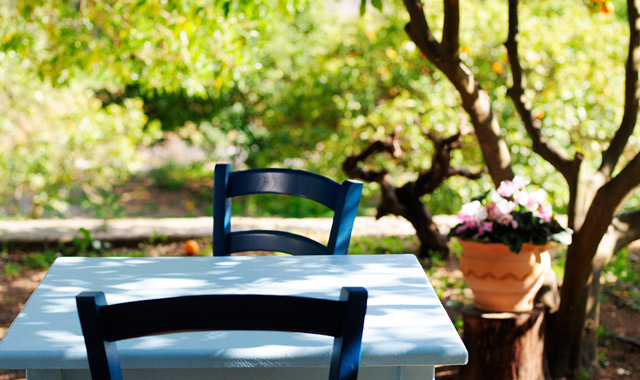 10. La Paloma Café
If you want a casual cuisine and a relaxed atmosphere in one of the most rural areas of the island your place is La Paloma restaurant. Located in Sant Llorenç de Balàfia in a traditional Ibizan house turned into a restaurant and surrounded by orange groves. Exotic salads and homemade focaccia, vegan dishes and organic products are some of the suggestions you can enjoy in its terrace. Breakfast or dinner, eating in this restaurant is a real treat.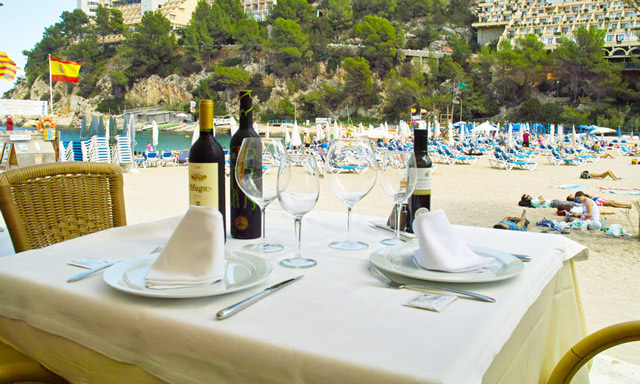 One of the most renown restaurants on the island for its fresh fish, rice dishes and traditional seafood cuisine. Located in Port de Sant Miquel, the 'bullit de peix' with 'arroz a banda' is a must-try. Also you can enjoy fantastic sea views.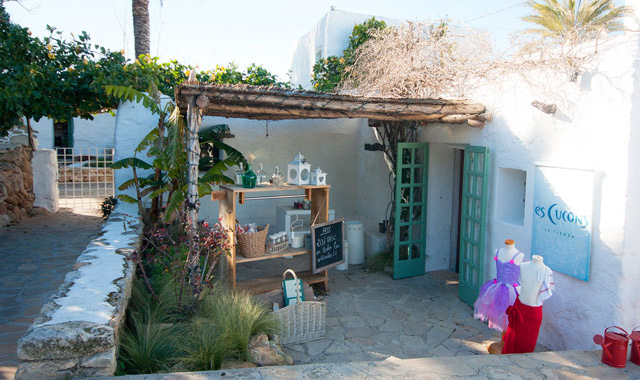 12. Es Cucons Shop
Located in a beautiful refurbished 'casa payesa' in the heart of the village of Santa Gertrudis, it's a boutique that offers decor items, fabrics, accessories and fashion for men and women. Original and very chic. Ideal to get the perfect souvenir.